Who is cave tubing for?
Cave tubing is a great activity for families, singles, couples and groups- which definitely isn't a problem. You will be geared with a helmet and an inner tube. Life jackets are also provide for those who don't know how to swim. Each group has a well-trained tour guide with much knowledge of the cave system and the winding river.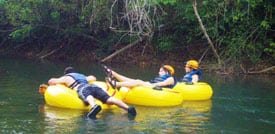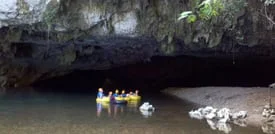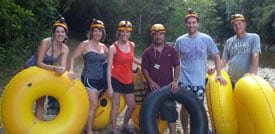 Where Cave Tubing in Belize?
Cutting through Mayan Mountains, Belize's Cave Branch River, better known as Jaguar Paw, is a top-class waterway for cave tubing exploration. Gerson and Emilio from Belize Jungle Masters are the founders of these trails, and were the first to discover the cave. Cave tubing begins with a 30 minute educational hike through the jungle-discovering Belize's flora and fauna, birds and insects.
A larger river system of rapids, the Sibun River, is a more challenging but fantastic tubing system. On this one mile cave system, look out for gigantic stalactites that have been hanging for centuries. Learn about the history of the Mayas, and the variety of ceremonies performed in the cave-including human sacrifices.
Cave tubing is usually a half day tour but can be combined with Zip Lining for an exciting day out!
Belize Cave Tubing Tour Details
Cave tubing Time: 2 to 2-1/2 hour
Children: must be over 40 inches to participate
Experience: swimming is not needed
Gears provided: helmets with lights and tubes
What to wear/bring: Hiking or water shoes, shorts, sunscreen, bug spray, cameras, and  a full change of clothes
Restroom facilities are available at Jaguar Paw, Caves Branch
Belize Jungle Masters friendly tour guides will assist you and make sure that you're safe and having fun!