The Crooked Tree wildlife Sanctuary
If your desire is to view some of the most beautiful birds in the tropics, the Crooked Tree wildlife Sanctuary is the perfect location in Belize. This amazing wetland ecosystem that is actually the largest of its kind in northern Belize is 30 miles north of the Belize City. Mother Nature has design this huge lagoon specifically for birds.
It is home to most of the 574 species of birds found in the country, including the largest flying creature in the Americas- the Jabiru Stork. Different species of egrets, herons and even the magnificent Jacana are few of the larger birds that inhabit this area. Birds aren't the only ones that roam this wetland, there are also a high possibility of finding morlet crocodiles, spiny tail iguanas and even howler monkeys.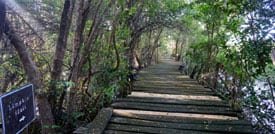 Crooked Tree Wildlife Sanctuary is located about 90 minutes from Belize Jungle Masters. Keep in mind that the best time to see the most birds is early morning or late afternoon, so getting started early is important. Once at the sanctuary you will be introduce to a well-trained bird guide who will elaborate more on the tour. Eventually everyone climbs aboard a small boat and slowly floats down the river spotting different species of birds or animals.
We highly recommend this tour and genuinely believe that this experience could provide a renewed passion and appreciation for nature and the many wonders it could provide for our enjoyment.
Wildlife Sanctuary Tour Details
Bottle water is provided by your guide.
Bring along: sun-screen, insect repellent, camera and also a binocular for a better viewing of the birds.
This excitement could last up to three hours after which you will be transported back your destination of choice
Belize Jungle Masters friendly tour guides will assist you and make sure that you're safe and having fun!