Belize Zip Line Adventure

Belize is World Famous for lush Tropical Rainforest, Nature Diversity, Majestic Trees, outstanding Wildlife and biodiversity, Zip Lining is by far one of the best method to view it all at a canopy level.
Flying through the air surrounded by nature is the most exhilarating feeling ever. The birds, howler monkeys and flowing rivers paints a perfect picture while zip lining.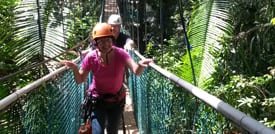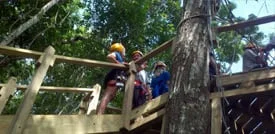 Zip Line Adventure Tour
The Zip Line Adventure consists of 6 traverses and 12 platforms. Gerson and Emilio from Belize Jungle Adventures are the founders of these zip lines. The total zip is about one mile long with the longest line being 1000 feet long and 200 feet high.
 All landing Platforms are equipped with safety gear, handrails and Guides to meet your next landing as well as to ensure your personal safety throughout the tour. The double cables are built to withstand 11 tons. Children of any age can participate either on their own or harnessed to a professional tour guide. The circumference of a harness belt is 42 inches, or carries a maximum of 300lbs. This zip line has met the international standards by the certified builders from the ACCT (Association for Challenge Course Technology).
Belize Zip Line Adventure is usually combine with Cave Tubing for an All day tour
Belize Zip Line Adventure Details
Lunch is provided when booking the combine tour
Gears provided: helmets with lights
What to wear/bring: Hiking or water shoes, shorts, sunscreen, bug spray, cameras (only if zip lining is combined with cave tubing)
Restroom facilities are at Jaguar Paw, Caves Branch.
Belize Jungle Masters friendly tour guides will assist you and make sure that you're safe and having fun!