Rappelling in Belize
Rappel tropical Belizean waterfalls! Located in the Stann Creek area, The May Flower National Park boasts two of the most astonishing waterfalls in Belize. It is located approximately one hour south of Belmopan City with a scenic view of the mountain range, river valleys and crystal clear streams. Drive off road for 20 minutes and experience the thrill of descending a huge waterfall and a refreshing swim in the natural pool as a treat.
Rappelling in the Rainforest in Belize is more than just a waterfall rappel! It's an active and physical sport where you must use your entire body to hike, climb, stretch, control your body weight and swim. All tour guides are experienced and friendly. Most bilingual adventure guides will give you a thorough safety talk about important rappelling & down-climbing techniques.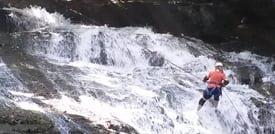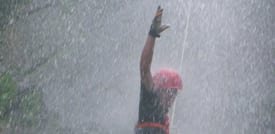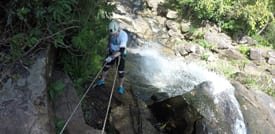 Recommended Rappelling For Novice:
The waterfall for beginners is approximately 150 feet high. Children of all ages are allowed to rappel. The tour guides are professional and helpful, and younger kids can also rappel strapped on to a guide. No experience is needed to rappel on this small waterfall. Groups from 2 to 20 persons are allowed on the waterfall for beginners.
Recommended Rappelling For Experts:
The larger waterfall requires a 1 hour hike uphill! Enjoy the picturesque view as you stand looking down into the depths of a massive tropical waterfall.
Persons must be fit to participate in this adventure. The minimum weight allowed is 100lbs, with groups containing 2 to 8 persons. A natural refreshing swimming pool is at the top of this 300 feet high falls. Professional guides will give you a safety briefing and get you ready to rappel. There are two stages- you can choose to rappel through the gushing waterfalls or on the edge. The first stage may be steep and requires a great amount of strength. Even though it takes a lot of energy, rappelling is a lot of fun! Once at the bottom of the falls, everyone takes a short break and prepares for a 30 minute walk back to base.
Belize Waterfall Rappelling Tour Details
All day tour which includes lunch
Gears Provided: Helmets, elbow pads, knee pads and harness
What to wear: Hiking shoes or water shoes, shorts, bug spray, full change of clothes
Restroom facilities are at the May Flower National Park.
Rappelling in Belize is an experience of a lifetime – take the opportunity to explore what most people dream of accomplishing!